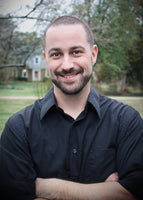 About the artist
Raised in a military home that was constantly on the move, Jordan Flower weaves many distinct landscapes into his work; from the mountains, lakes, and autumn colors of upstate New York, to the large bustling cities of Seattle, San Diego, and Richmond, to the coastlines of Maine, Rhode Island and Virginia. Jordan is especially intrigued by the interaction of man-made and nature, and the play of light, both natural and artificial.

A graduate of Virginia Commonwealth University's art program, Jordan is not only a dedicated painter, but also a Henrico County art teacher of 13 years.
Jordan is represented by Cabell Gallery in Lexington, VA as well as Spa Fine Art in Saratoga Springs, NY. His work is also exhibited throughout central Virginia and upstate New York.
Featured Collection | Cityscape
---